Perfect software for you Internet shop?!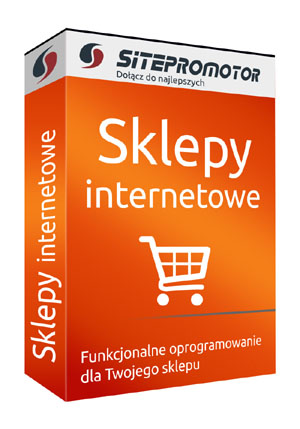 Even today you can start visually attractive and fully functional Internet shop which will bring you profit that you have only dreamt of so far. We will advice, help and do all the paperwork for you.

Thanks to that you will have a good reputation among clients, as well as high sales of products you offer.

Domain registration, proper server selection and effective advert? We will take care of it with flying colours!
Seven reasons the SitePromotor offer is perfect for you:
Intuitive Internet shop management. Thanks to an easy administration panel, you can make changes in your offer just within few moments

Fast activation of fully functional shop. Within just few days, totally free of charge, we will activate your Internet shop and conduct all the necessary tests in servers.

Any amount of unique e-mail addresses, thanks to which your customers will remember your company as a totally professional, and they will have the possibility to contact you quickly.

We will effectively sell the products you offer, effectively present the assortment and properly promote it on the Internet site.

Your clients will sign in to your shop and buy chosen products easily and nicely.

Each of our Internet shops is automatically integrated with systems that allow safe Internet transactions - Płatności.pl, Allpay, mBank, Przelewy24. Shops are also connected with price comparison sites such as: Skapiec.pl, Ceneo.pl, or Pasaz.Portalisko.pl. If you wish, it is possible to integrate your shop with any other systems.

When you order an Internet shop, you will get 3 months web positioning free of charge for 3-4 keywords we agreed together. Thanks to it, a person interested in your products will find you*
Shop functionalities which are standard for us:
Unlimited amount of categories and subcategories
Well developed but user-friendly administration panel.
Control, analysis, order printing, Invoice issuing
Warehouse management
Managing the system of adverts on the website + statistics
Sales and special offer organization
Shop is serviced by many people, advanced system that equip administrators with entitlements.
Creating clients groups, to whom you may dedicate different discounts
Possibility of checking order's status
Newsletter subscription
... and much more. We can send full list of shop's functionalities via e-mail.
Where can I see the Internet shops that you designed?
You can find the examples of the shops we designed in the portfolio tab.
How much is an Internet shop?
Bringing to life and running an Internet shop cost less than you think. We encourage you to direct contact. With pleasure, we will present you professional and complete pricing.
Contact us :
Email : sitepromotor@sitepromotor.com.pl