Internet websites - 100% satisfaction guarantee or money return!
Impossible? There you go! We are convinced that our Internet sites can meet even the most sophisticated needs. Having many-years' experience in creating websites, we can guarantee professional advice in choosing the Internet service functionality, as well as countless conveniences and improvements which will make you feel fully satisfied with your website!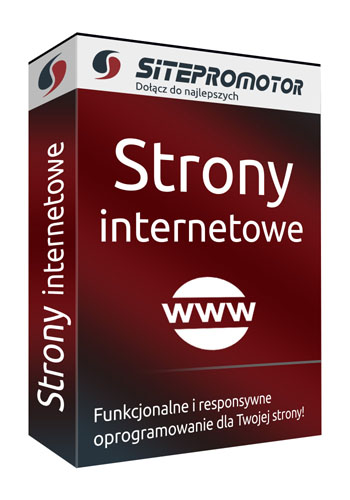 Websites designing is similar to a house building that should be done by people with passion and imagination. Would you entrust it to the people who don't know anything about it? Surely no! For almost 7 years we have been designing professional websites; creating, with equal engagement, complicated vertical industry portals - vortals, and Internet portals, as well as on line business card websites.
This many-years' experience let us work out the most effective solutions in the choice of Internet services functionality, and we want to share them with you.
Realizing the fact how important the Internet browsers are (e.g. Google) in generating activity at website, we pay special attention to maximal website adapting for the demands they make for themselves. Thanks to it, once you order a website in our company, you can be sure that it will be perfectly optimized and prepared for web positioning.
The websites we make are based on the most modern technologies, such as: PHP, Flash, DHTML, CSS, AJAX. So when you order a website, we can reassure you that it will be up-to date in two-years' time!
Seven reasons the SitePromotor offer is perfect for you:
Website functionalities that are standard for us
You can create any amount of subpages and categories
By the use of a Word-like text editor, you will change and add text and images.
You can publish, archive articles on the site, as well as you can manage the comments to them.
Thanks to the newsletter subscription you get the possibility of managing the addresses in the database, grouping them and sending the newsletter. To make the message edition easier, a Word-like text editor has been used.
Recommend to a friend - this function will let you send to your friends a hyperlink with specific publication in the service and short comment.
Browser - which will enable you and your Internet surfers to search site's resources (it is possible to activate and deactivate)
It is easy to make foreign language versions of the page.
Contact form - it will enable your site's visitors to send a message automatically, without using e-mail program.
Module of managing banners on the pages + effectiveness statistics - will let you completely use page's capacity for advertising campaigns
Multi-gradual access to the panel - it will make it possible for you to decide, which users have the access to which functions in your service.
Users management - it will let you manage the users completely (adding, editing, deleting, signing the authorization)
in case it is not enough….we offer to those more demanding ones:
Photo gallery - it will enable you to publish photos and present them effectively. The system will automatically downscale the photos you add, so you do not have to worry about adjusting them to the Internet conditions.
Internet forum - with just one click you can activate the forum that is integrated with the page, which will let you create a social group around your page.
Company's blog - it gives you the possibility to keep company's blog, where you can forward information concerning your company easily and effectively.
Survey - this module will enable you to research the users' needs, preferences, expectations and opinions. The effects are gathered in a database, and the results are presented in the form of charts and set of answers.
Guestbook - will make it possible for your guest to leave their trace...
Chat - thanks to this functionality, the instant online contact with a customer interested in your offer is possible. Chat enables you to talk in real time.
Calendar - it will let present historical events - it will display dates commemorating events that took place on the day of visit.
Diary - it will let you gather and publish information connected with the company's events and parties. Each event you can match to suitable categories.
How much is the website?
To be able to answer this question we must receive few answers to our questions. That is why, do not hesitate and use any following contact method, and ask our consultant a question. Remember! We are eager to know your needs, we will advise you in your choice and will present professional and final pricing.
Is it worth?
Others have already trusted us, see what they wrote about us!
Contact us :
Email : sitepromotor@sitepromotor.com.pl